Risk Free Eviction Guarantee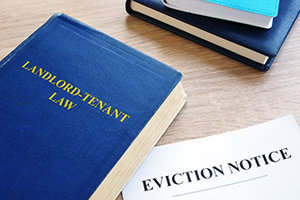 If you have ever had to evict a tenant, you know how stressful it can be. In addition to the stress of going to court, you have the reasons that brought about the eviction in the first place: non payment of rent, tenant caused damages, etc. And to add insult to injury, you have to pay your attorney and the court cost to remove the offending tenant which caused you all this pain!
We want to help. We have put together the Risk Free Eviction Guarantee in order to protect our clients from the legal costs of an eviction.
Here's how it works: For a small monthly fee and a one time Retainer fee, we will pay for the legal fees involved in a Forcible Entry and Detainer Action. Not everyone will experience an eviction. But because a large number of people participate in the Risk Free Eviction Guarantee, your risk of a painful eviction is spread out over many property owners. If you were managing the property by yourself, you could not buy this kind of risk management. But with the help of PropertyWize Property Management, you are now able to significantly decrease the financial risk of an eviction.
We Guarantee It.
*Certain Restrictions Apply
Get A Quote